Mini fridge 30L or 40L | matt or glass front
TZS First Austria Mini FridgeSuper practical: the completely silent mini bar Absolutely noiseless thanks to Peltier cooling technology: this simple mini fridge with energy-saving LED interior lighting and dirt-resistant surface is a quiet everyday helper. It is perfect for setting up in smaller rooms (bedrooms, small flats, student rooms, offices, hotel rooms, holiday flats, camping). With a solid usable volume of 28, 34 or 35 litres, drinks and snacks can be easily placed at different heights and kept constantly cool. If necessary, the shelves can be easily removed. The black compact appliance can be easily adapted to local conditions and is available in matt black or in black with a glass front. The side of the door hinge can be changed, so that barrier-free opening is always ensured. With its compact size, the mini fridge can be positioned in many places. Thermoelectric Cooling down to 6°C (at an ambient temperature of 23°C) LED interior lighting Variable shelves, variable door compartments Scope of delivery:1x mini fridge from TZS First Austria
€189.95

€279.95

(32.15% saved)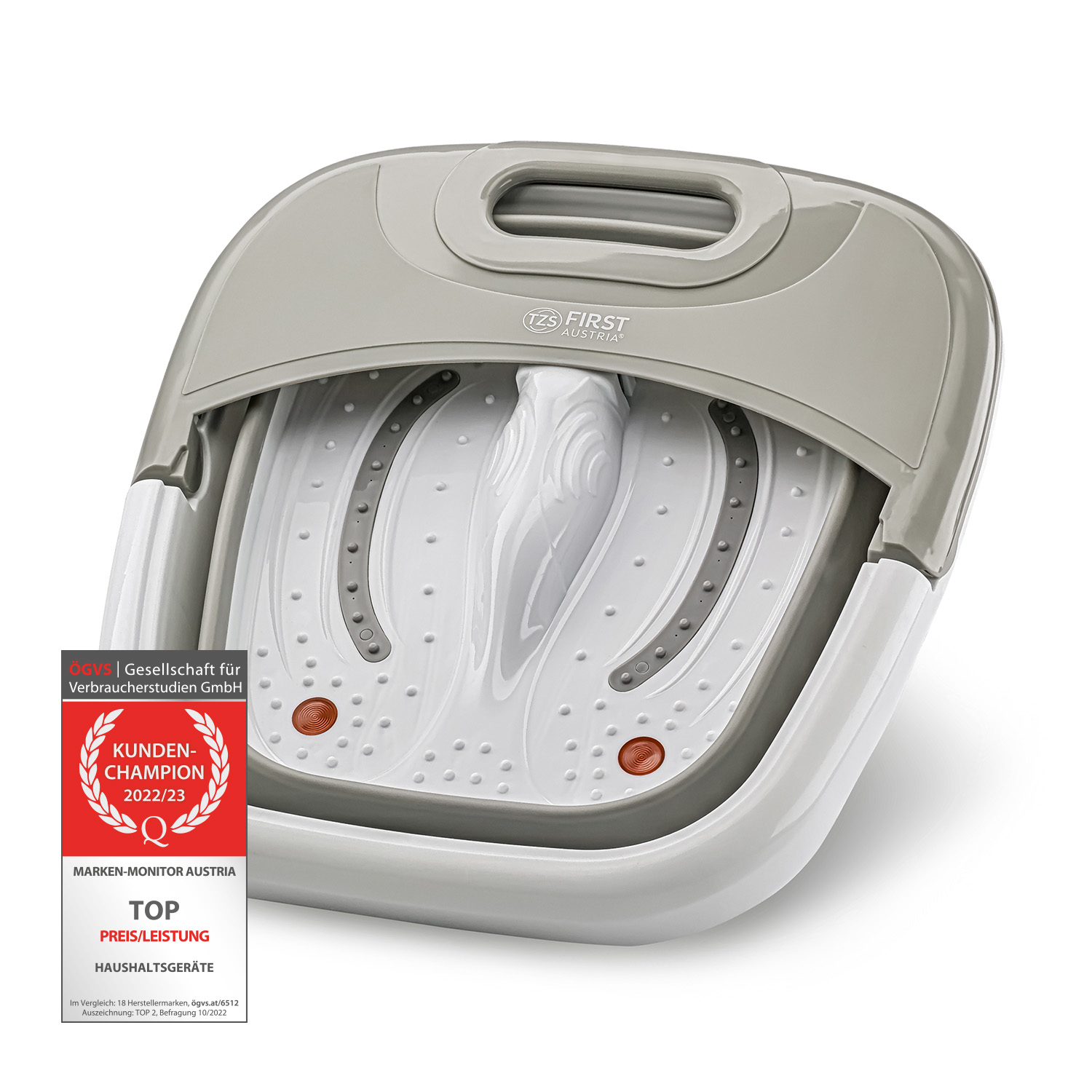 Massage foot bath | 450 watts | Infrared | Foldable
TZS First Austria Massage Foot BathTired feet? The foldable foot spa makes it good again.A long day on your feet, a hike or a night on high heels: in the foot spa your feet are allowed to recover from the ordeals. Massage nubs on the surface, adjustable vibration with a wonderful bubble massage, switchable heat and infrared light ensure that you soon feel fit again. Best of all, unlike most models, this unit folds up uncomplicatedly for easy storage.Two combinable function groups are available to choose from: Bubble/Vibration and Heat/Infrared. Equipped with convenient carrying handle and non-slip bottom. Foldable Bubble bath & vibration Switchable heat & infrared light Included in the package: 1x massage foot bath by TZS First Austria
€49.95

€79.95

(37.52% saved)
Infrared hotplate | single or double
TZS First Austria glass ceramic hotplateHigh functionality in a clear design: the simple infrared hotplate. For moving house, camping, travelling, at parties or in small kitchens, the robust double-plate hob provides valuable services. Thanks to its small dimensions, the hob is easy to stow away. The hob provides fast and evenly distributed heat using infrared technology and is therefore ideally suited for all pans and pots. The design in discreet black gives the appliance an elegant look.The hob is equipped with infinitely variable thermostat-controlled temperature regulation, two operating lights and an overheating protection. First-class glass ceramic Lightning-fast heat output Autonomous temperature setting for each heating element. For small to medium pans and pots Scope of delivery:1 x glass ceramic hotplate from TZS First Austria.
€79.95

€129.95

(38.48% saved)
We are customer champion 2022/2023
Household appliances with top price/performance
Our household appliances have been awarded "Top Price/Performance 2022/23". The ÖGVS (Society for Consumer Studies on the Brand Pool in Austria) carried out a large-scale study with 275,000 customer ratings, 1141 brands and 86 product segments. The consumers voted TZS First Austria in second place for price/performance in the household appliances segment. We are very happy about this - thank you for your trust and for the great ratings!
Thermoelectric mini fridge
Compact, stylish & extra quiet
The mini fridge is perfect for setting up in offices, bedrooms, holiday flats, camping buses or hotel rooms. Drinks and snacks can be easily placed at eleven heights and constantly cooled with a solid useful volume of 34 litres. Thanks to the compact design and silent operation, it can be easily adapted to the local conditions.